What are Door Entry Systems for Flats?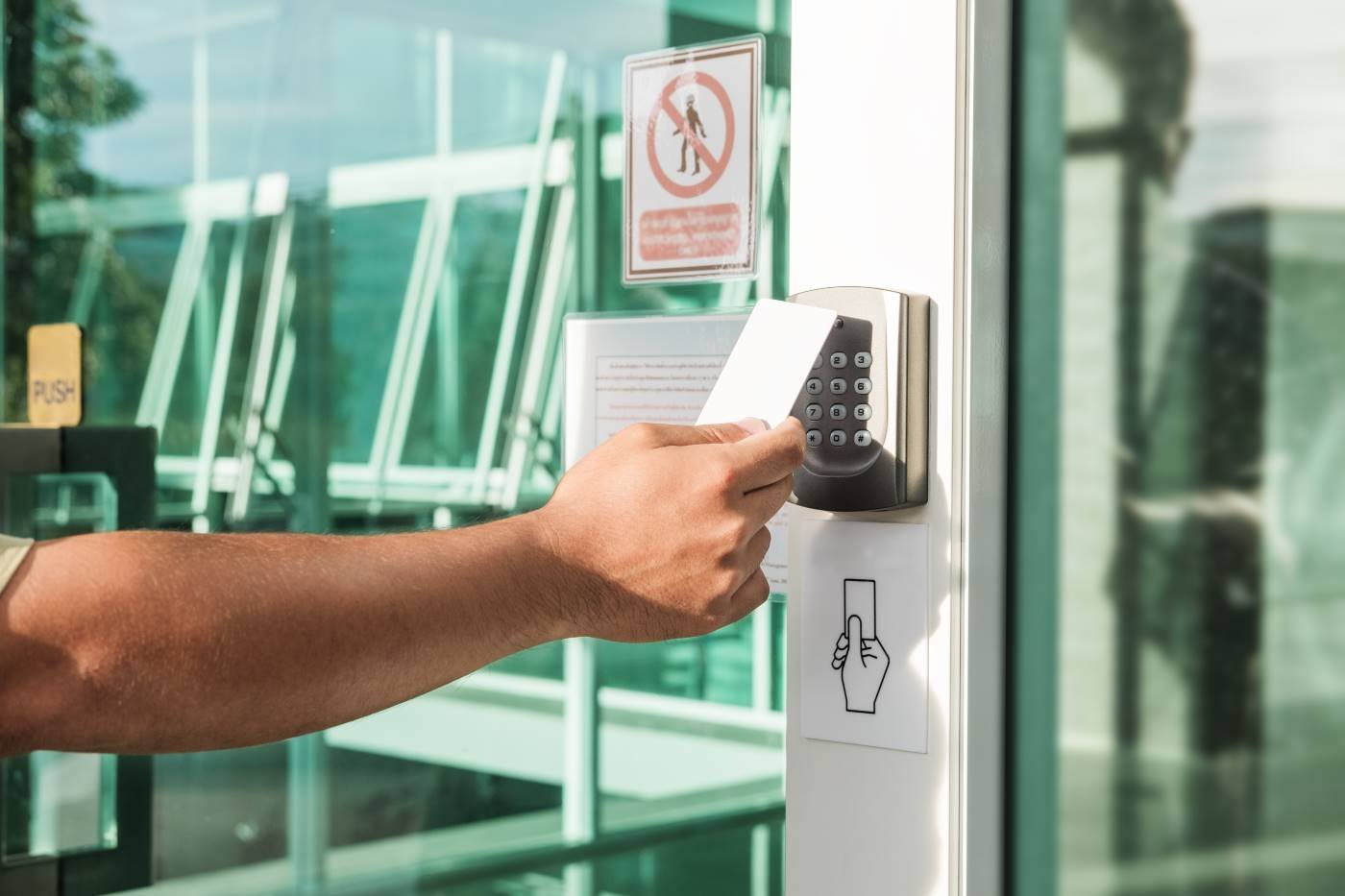 Video Door Entry System for Flats & Apartments
For anyone living in a high-rise building, having a secure door entry system for your flat is crucial. Door entry systems, similar to their cousin system known as access control systems, are designed to restrict access to the building as well as to your apartment, offering security and peace of mind whether you're out and about or relaxing at home.
Entry systems vary in design and style and can be extensively adapted to suit very specific circumstances, as evidenced by their use across industry and business to allow entry to restricted zones, timed entry and exit, and tracked movement around a site.
In a domestic setting, door systems are usually installed by the owners of the building, who may rent out the flats within or sell them on a leasehold basis. Usually people who live in flats pay into a fund to cover the upkeep of communal areas such as lobbies, stairwells and landings, as well as outside space, and part of this is often used to install and maintain door entry systems, which offer the greatest reassurance to residents. Often referred to colloquially as intercoms or buzzer systems, they allow home owners to speak to or see who is waiting to come in, and grant access by deactivating an electronic lock, allowing the visitor to open doors into the building.
Common Types of System
Common systems use a keypad, where a specific code grants access, or else the use of a key card or fob which needs to be registered by the security system before a gate or door can be opened.
These systems can also be used to restrict access to a communal carpark, by giving inhabitants a fob or other device which can be presented at the car park gates, allowing them to park in the limited spaces available. Indeed, many access systems enable you to unlock the gate and then the front door from the same base unit, for additional convenience.
Door entry systems for flats are looked upon favourably by insurers, who like to know that additional security measures are in place aside from the standard key and lock arrangement, so while the initial financial outlay may be significant, it does bring long-term monetary benefits.
An additional bonus to using entry systems for apartments is the ability to screen who enters the building, requiring anyone visiting to check in with their hosts first. This can be a double-edged sword, as delivery personnel will often attempt to contact anyone in the building if their intended recipient isn't answering, but it's worth it to have the reassurance that no-one can enter the building without authorisation.
Furthermore, anyone forcing entry into the building will set off alarms before they've even reached your door, giving security or police services additional time to reach the building before individual flats are compromised.
There are lots of different door entry systems available for use in flats and apartment buildings, so it's worth reading up on the different styles to ascertain which one is most suited to your circumstances.
Video Door Entry for flats
While for many people having an audio intercom is sufficient, there is a growing trend for the use of video door entry systems. This allows the flat owner or tenant to see who is waiting to enter, as well as anything the visitor might be carrying or doing, before granting access. Video systems also have audio function, allowing for 2-way conversation.
The rise of video systems via smartphones, where you can see who has rung the bell and interact with them even if you are not at home, has also allowed homeowners to use the video system as a sort of unofficial CCTV. Because the doorbell system is activated by movement, homeowners are alerted on their phone if anyone arrives at the house or is detected lurking near the door. This has at times proved useful in deterring thieves and other petty criminals who know they will be recorded.
Of course, the limitation with these doorbells is that they do not control your actual door. With a video door entry system, you get many of the benefits of the video doorbell, such as motion-sensitive recording, but can also use it to open the door to your building or even your flat – though only when you're at home.
These systems seem to offer the best of both worlds. They are available with either audio or video, and rather than limiting the homeowner to going to a specific panel in their flat to authorise entry, the signals from the front door or main gate are sent to one or more moveable receivers in the house, any of which can be used to grant access.

This is a particularly good system for anyone with limited mobility who may struggle to move around their flat fast enough to reach a standard intercom facility, those with small children, shift workers or anyone who would appreciate a little extra convenience. It is also easier to set up, as it does not require wiring into electrical systems or plugging into a conveniently placed socket.
This wireless system obviously costs more than the standard door entry systems for flats, and generally works using local radio frequencies. But it's definitely worth considering investing in, as t can also record messages, so anyone ringing the bell when you're out, or busy, can leave a message letting you know who visited.
However, you can also now get GSM wireless systems, which instead use the mobile phone network. This enables the access point – the gate or door pad – to contact your landline or mobile phone to request entry permission. This means you can grant access to someone even if you are not at home, whether you're at work or in a different country – ideal for if someone comes in to check on your home while you're away, if younger children get home from school before you finish work, or if the guest you're expecting arrives sooner than anticipated and you're not home yet. On each occasion, you can speak to them, explain the situation and then allow them to enter.
Naturally, this system is the most expensive option, but it also gives the most flexibility and versatility, whilst at the same time offering the peace of mind that any door entry system provides.
Whatever system you feel best meets your needs and budget, ensure you have maximum protection against crime, intruders and unwanted guests by using a quality door entry system for your flat or apartment.
8 x 6 Megapixel IP CCTV Installation + Transmission Kit...
47 – 4K 8 Megapixel IP CCTV Installation – Basildon,...